Leathers
We offer a full range of leathers from plain, rub off antique leathers, aniline, waxed, pull up leathers and patterned leathers. All our leathers and colours are not shown on our website therefore please enquire if you require a different colour sample.
Leather is a natural product, it will display traces of its past such as brand marks, scars, growth lines, veins and areas of differing fibre density. These hallmarks in no way detract from its natural beauty, quality or durability of the leather.
Types of Leather
Antique -Rub off Leathers:  This is a classic embossed rub off hide, that is mainly associated with deep buttoned furniture, such as chesterfields. Once the hide has been upholstered the dark thin top coat is gently rubbed off to give the required effect. It is then resealed with the appropriate lacquer. This gives you the classic two-tone antique effect.
Pigmented Leathers: are produced on corrected grain hides, finished with a pigmented topcoat. This is then embossed with an artificial grain pattern. And is available in many solid colours.
Aniline leathers: are tanned to ensure a pleasing and distressed aged finish from new. As these leathers are the most natural looking leathers all the natural characteristics of the animal hide will remain visible. The hides do not have a consistent colour density across the whole hide, therefore the colour can change when pulled or stretched. It is less resistant to sun light, soiling and liquid absorption therefore extra care is needed.
Semi-aniline leathers: these leathers still give a natural appearance but are more durable than aniline leathers. This is due to a very light pigmented coating on the surface of the hide, still allowing the natural beauty of the hide to show through but providing a more consistent colour and protection.
 Fabrics
We offer a wide range of coloured fabrics and designs  not shown on our website, therefore please enquire if you require a different type of fabric choice.
Modena Fabric range, is a crushed velvet, soft to the touch offering the ultimate in luxurious looks. Colours range from neutrals to vibrant brights. Modena, has established itself as the go to velvet for customers wanting a sophisticated look whilst not compromising on durability or practicality.
Amalfi fabric range, is a charming soft matt velvet, providing the look of traditional cotton velvet with out the distinctive marking. Colours range from neutrals to sophisticated greys. The Amalfi provides a modern clean look with the added practicality and durability of modern life.
Lana fabric range, is a jacquard chenille plaid fabric providing the look and feel  of wool, with the added practicality and durability to cope with modern life. The plaids have complementing window pane and stripes designs not currently shown on our website.
Frames
All our frames are made from solid beech, they are glued, screwed and dowelled on the joints for maximum strength and durability. (in some instances where strength is not an issue, some plywood or types of board are used, solely to give shape or for tacking off to hold the cover in place.)
Foams and Fibres
We use the highest quality foams and fibres in all our furniture.
Foam cushions – keep there shape longer and require little maintenance.
They are available in soft – medium – hard
Fibre cushions- will require plumping on a regular bases to return the air back into the fibres.
Buttons
Traditional furniture usually involves deep buttoning, to give shape and retain its shape and tension.
Most button work involves a fastening into the frame to a depth of 2-4cm.
Studs
All our studs are individually hand nailed on all our furniture.
Renaissance (bullseye) studs are our standard coloured stud, please inform us at time of ordering regarding a different colour.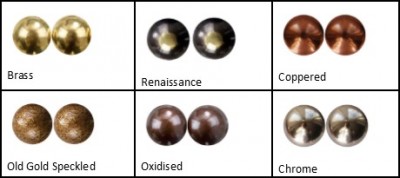 Feet
We offer a wide selection of wooded feet in different sizes and shapes.
Mahogany is our standard coloured foot, please info us a time of ordering regarding different colour choice.